Cotsen Children's Library, Princeton University
Magic Lantern Virtual Exhibit
This virtual exhibit is truly a delight. The
Cotsen
Children's Library
is a part of the Department of Rare Books and Special Collections at Princeton University Library and host a collection of illustrated children's books, manuscripts, original artwork, prints, and educational toys from the 15th century to the present day. The Cotsen site itself is bright and colorful, and wonderfully easy to use. Their
virtual exhibits
are also a delight. All four exhibits have been done in the same simple format.
The main page of the Magic Lantern exhibit states its purpose in clear language, clearly aimed at children and adults alike. It explains what a magic lantern is and gives a brief context for greater understanding. The bottom of the page holds discreate navigation buttons: a simple right-pointing arrow to begin viewing the pictures, and links to the other virtual exhibits. The top of the page also has small thumbnail pictures of the exhibit's items, as well as a link back to the main page.
Each image has its own page. The picture itself is hotlinked, and opens up a higher resolution image in a new window when clicked. Next to it lies the image's metadata - it's name, source, and the collection it is from. There are two or more additional paragraphs as well, explaining what the picture is specifically and what it means in a larger context. If additional information may be found on another site, links are often provided in these paragraphs for the reader's interest. The description of an image from the "Spooner's Protean Views" collection, for instance, contains a link to a Spooner dioramic print. This one is Mt. Vesuvius erupting.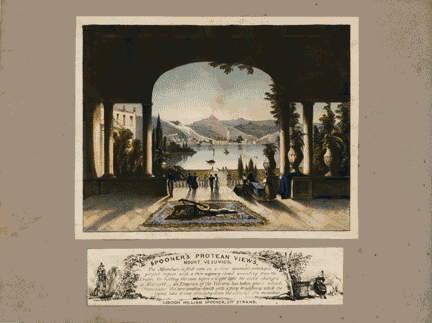 As the daughter of a children's librarian, this site is absolutely wonderful.