Chinese Paper Gods at Columbia University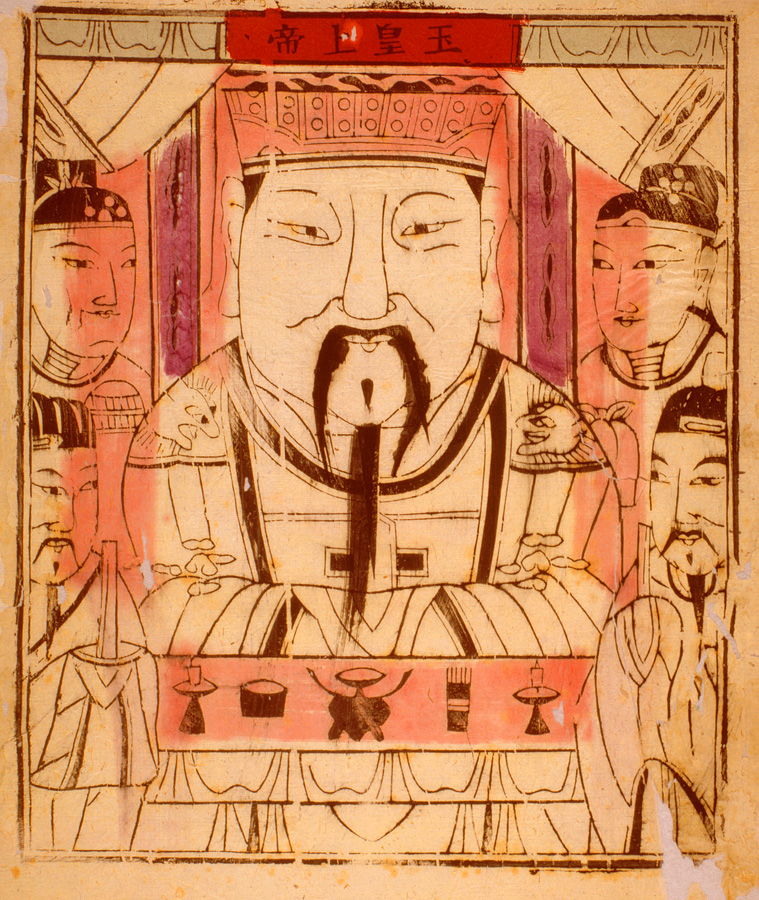 Chinese Paper Gods is one of the many projects of Columbia University's digital library program. It is, in short, a collection of some 200 images of traditional Chinese religious prints that were purchased by Anne S. Goodrich in 1931 from the Ren he zhi dian store when she served as a Christian missionary in what was then known as Peking. Columbia has divided these prints into two categories: prints that were meant to be displayed throughout the year to bring a family protection and prints that were meant to be ceremonially burned in order to become the family's emissaries in heaven. The collection appears to be a part of Columbia's larger East Asian Library. Thus, the selection procedure seems to have been to digitize this entire subset of the East Asian Library as it has a very clear theme and, for all intents and purposes, is a complete, intact collection with a easily traceable provenance - i.e. assembled by Anne S. Goodrich in Peking, brought to the United States, studied by Goodrich, and subsequently donated to Columbia University's East Asian Library in 1991.
At first sight, one can easily be misled to the conclusion that Columbia provides scant metadata for each digitized image. When one initially accesses an image, one finds only a title in both English and Chinese, a clickable call number, a physical description, the collection to which the image belongs, and a related gallery. Perhaps that is not as scant as this author originally thought. At any rate, if one clicks on the call number, one is taken to the image's record in Columbia's online catalog. This record provides a more apt amount of metadata which includes Library of Congress subject headings along with the ability to view a MARC record for the image/physical item. The Library of Congress subject headings are, naturally, clickable and allow for one to browse similar items outside of the Chinese Paper Gods digital library if one has such a prerogative.
Each image or digital object is first displayed within the framed setup of this digital library's template. This initial image is sufficiently large to the point that one can obtain a feel for the digital object without having to view it in a larger format. If one, however, wishes to do so, the option is available to view a larger image. This image is loaded onto a blank, white background with no accompanying information regarding the image. One has the option to zoom in on the image only once when in a web browser. If one saves the image to his or her computer, one can zoom in two times without the image becoming too pixelated. After the third zoom, the image loses a good deal of clarity. Additionally, if this author's computer is not lying, it appears each image is composed of 72 pixels per inch. The difference between the smaller and the larger image being their dimensions: the smaller is 387 x 450 whereas the larger is 773 x 900. Thus, it is quite plain that the larger is approximately twice as large.
Unlike this author's previous experiences with digital libraries in this class, there is no guesswork that need be done with regard to whom Columbia had in mind when creating this digital library. On their 'About the Collection' page, one finds this information stated quite plainly in the last paragraph. It is as follows:
"This Web site is offered in the hope that scholars with similar curiosity about these images and the worldview they represent will continue the study and deepen our understanding about their significance."
Thus, the intended audience is painfully obvious. It is - and my apologies for the redundancy - those whose scholastic pursuits lead them to a desire to explore these artifacts as a means to acquire understanding about this specific aspect of Chinese religious tradition. It is this that Anne S. Goodrich found herself doing in much of her work that resulted in a three-volume study of Chinese culture. And it is with this aim that she donated these evidentiary artifacts.