Portraits of Scientists: Increase Lapham's Cartes-de-visite Collection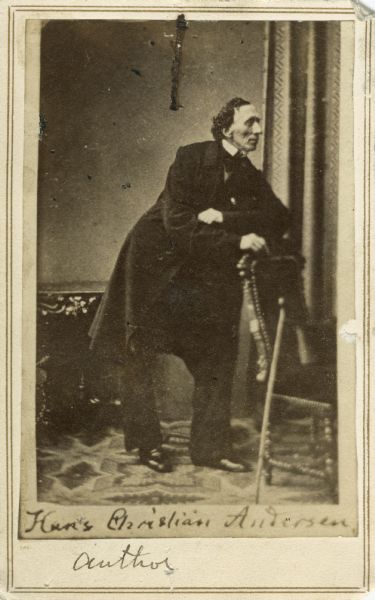 Portraits of Scientists
is a digitization project undertaken by the Wisconsin Historical Society (WHS) that pulls together 95 cartes-de-visite and 3 documents from an album of correspondence between famed Wisconsin scientist, Increase Lapham, and his colleagues (1811-1875). The cartes-de-visites themselves, according to
WHS
, represent a veritable "who's who of [the] 19th century scientific world" including such notable figures as Charles Lyell, Richard Owen, and Thomas H. Huxley. It is no surprise, then, that WHS chose to create a digital collection highlighting these cartes-de-visite. The collection principle, thus, seems rather straightforward: to digitize Lapham's album of cartes-de-visite sent to him by other famed scientists of his day. On this front, WHS has succeeded as it appears they have, in fact, digitized all such cartes-de-visite.
The metadata fields provided by WHS for each image are pleasingly consistent from what this author observed. They include Title, Description, Image ID, Creation Date, Creator Name, Collection Name, Genre, Additional Information, and Subjects. The most interesting of the above fields are the Description and Additional Information fields. The Description field is used as a mini-biography for the photographed individual of the cartes-de-visite, providing a list of the individual's accomplishments that prove quite helpful in contextualizing the individual's impact of the development of scientific pursuits. The Additional Information field is used to describe the information found on the backside of the cartes-de-visite while also providing explanatory notes of certain photographers and photographic processes. As stated previously, the uniformity with which these fields are employed is pleasing and refreshing given some of the other digital collections this author has observed. However, it should be said that there are certain fields missing here that would prove quite helpful. There are no fields for the creation date and creator of the digital object nor are there any fields for characteristics of the digital object itself outside of the Image ID field. Inclusion of any of these fields might go a long way towards better informing an audience of the process undertaken by WHS to digitize these carte-de-visite.
The object characteristics is another area where one could argue WHS falls somewhat short in this otherwise well-executed endeavor. This author, as hinted at just above, discovered no resource providing information on (1) how these physical objects were reformatted into digital objects and (2) how the digital objects were then processed, versioned, and stored. There is what appears to be a persistent unique identifier contained in the Image ID field. Beyond this, the most this author can say is that the enlarged images appear to have 600 ppi. Yet, it is the enlarged images that caused this author the most frustration. WHI offers no zoom capability. Consequently, there is a good deal of information a user in unable to access - signatures, captions, handwritten and personalized messages - but by referring to the Description and Additional Information fields. For this author, being able to access this information on the digital surrogate of the original object would be much more preferable than being forced to refer to a transcription with no absolutely certain possibility of verifying the transcription's accuracy.
WHI never unequivocally states its intended audience. However, it does
state
at one point that "these photographs may be used as a primary resource in their own right to better understand Lapham's 19th Century world" with the obvious implication being that the intended audience for this collection is one of a scholarly persuasion. Thus, the intended audience could range from those seeking more context of Increase Lapham himself to those seeking to explore the arenas into which the cartes-de-visite market made for itself a niche. It is difficult for this author to judge WHI's effectiveness on this front. This author can, however, declare that he found this collection - despite its flaws - a fairly enjoyable and educational one without being himself engaged in a scholarly project related to anything found in this digital collection.